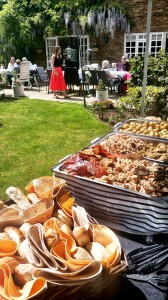 We have been running our hog roasting business for the best part of 3 decades and we feel very privileged to do what we do, because for us, it is so much more than just a job. We are passionate about this traditional cooking method that has stood the test of time and we want to reintroduce it to as many people as possible. Whilst we have always stayed true to our roots, we recognise the need to develop the service we offer in order to ensure it does have a broad appeal and as a result, we are delighted that there is a growing demand for our catering from any increasingly diverse range of clients. This is a testament to our considerate approach, exciting range of menus that suit all tastes and the unrivalled quality of our fresh locally-sourced food.
Menus To Suit Everyone
As passionate as we are about hog roasts and as superb as ours are, we recognise that this would not always be everyone's number one choice. This is why we have extended our menus over the years to offer alternative slow-roasted meats for those who prefer beef, chicken, lamb or turkey for example, as well as a tasty selection of vegetarian options and side dishes to compliment every main course.
We provide all of the traditional trimmings for each of our meat options, or a tempting range of salads and seasonal vegetables if you would prefer. We always offer a bespoke service and can adapt any of our menus to meet your needs.
Catering For Any Type Of Event
When it comes to the kind of events our catering service is suitable for, the list is endless. Our traditional hog roast buffets are an incredibly economical option to feed a lot of people high quality food at large-scale events, but because our menus are so varied, we can also provide a fine dining experience with canapés for formal corporate events or refined 3 course meals for wedding receptions.
There is also no end to the type of private parties we can cater for, including birthdays, anniversaries, christenings and theme parties. We can do it all, and we always do it in exactly the way you want us to. That is exactly what our customers love about us!<