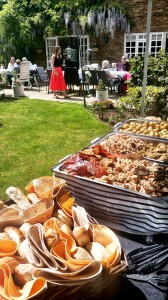 We have been running our hog roasting business for the best part of 3 decades and we feel very privileged to do what we do, because for us, it is so much more than just a job. We are passionate about this traditional cooking method that has stood the test of time and we want to reintroduce it to as many people as possible. Whilst we have always stayed true to our roots, we recognise the need to develop the service we offer in order to ensure it does have a broad appeal and as a result, we are delighted that there is a growing demand for our catering from any increasingly diverse range of clients. This is a testament to our considerate approach, exciting range of menus that suit all tastes and the unrivalled quality of our fresh locally-sourced food.
Menus To Suit Everyone
As passionate as we are about hog roasts and as superb as ours are, we recognise that this would not always be everyone's number one choice. This is why we have extended our menus over the years to offer alternative slow-roasted meats for those who prefer beef, chicken, lamb or turkey for example, as well as a tasty selection of vegetarian options and side dishes to compliment every main course.
All of our delicious slow cooked meats can either be served with our own take on their traditional trimmings, or a varied selection of side dishes, salads and vegetables, it's entirely up to you. Here at Hog Roast Watford, we are happy to take any ideas you may have on board in order to offer you a unique menu that is completely tailored to your event.
Catering For Any Type Of Event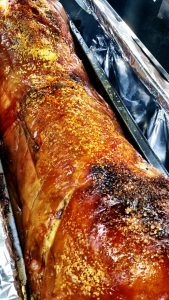 The wide variety of catering packages that we offer makes Hog Roast Watford a suitable catering option for so many different types of events in Watford. Our classic hog roasts provide a very budget-friendly, yet high quality catering solution if you require catering for a high volume of people at a large outdoor event in Watford. If you require mobile catering for a smaller party or more formal occasion, we are equally up to the task. We can provide impressive 3 course menus if you want a more refined dining experience for your wedding reception, corporate entertaining, or any other event in Watford that requires a more formal feel.
Our event catering abilities in Watford don't stop there either. If you require food for any size of private party, whether it be a special birthday or anniversary, a christening, an office party or a festive celebration, the Hog Roast Watford team are on hand to provide complete catering solutions for any occasion. Our versatile catering style enables us to cater for smaller parties just as successfully as large-scale events in Watford.
Expert Event Catering Anywhere In Watford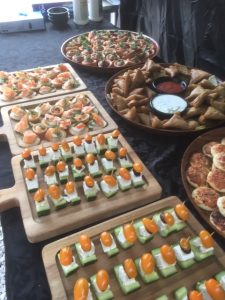 Not only can we treat you to your ideal tailor-made menu for your event, we are able to prepare it all from scratch in any setting in Watford. If you hire the Hog Roast Watford team to cater for your event, you can choose your ideal venue without having to worry about the practicalities when it comes to the catering. Our accomplished catering team and advanced catering equipment enable us to operate in any environment and rustle up fabulous food for any number of guests. So, whether you would love to have your event in any outdoor setting in Watford, you would like to host a special occasion in an elegant marquee, or you would prefer a more traditional indoor venue, the Hog Roast Watford team are comfortable catering in all of the above and more.
Getting In Touch With Hog Roast Watford
Our menus page will give you an insight into the breadth of our catering packages and the diverse dishes that we offer in addition to our hog roasts. If you would like to speak to us about our hog roast catering services or you would love to hire us for your event you, just give us a call on the number opposite, send us an email or complete our quick query form, and we will be in touch soon to discuss your event catering requirements!